I'm still waiting for a smart video game programer to come up with some sort of 3D spanking simulation. You know.. where you can place a virtual girl over your knee? Imagine being able to spank all your favorite spanking stars from sites like Girls Boarding School, Real Life Spankings, Firm Hand and others. That would truly give new meaning to the term Real Spanking.
About the closest we have right now are cool pictures like below, and the folks at Real Life Spankings sometimes film over the spanker's shoulder, so you see almost the same view he does, which is kind of neat I have to admit.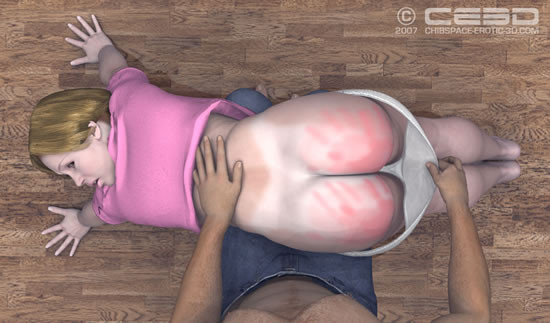 Source : lefessophile.centerblog.net sur centerblog.
Other then that, there is a site I just found called 3D Certified that has 3D pictures and videos, yes spanking videos too, that requires you to use those red and blue glasses that you get in the movie theatre, or have one of those new fancy high tech monitors with the special glasses.
If you have an old pair of 3D glasses lying around, go to 3D Certified and look for the picture set called, Sexy judge gives prissy girl a hard otk spanking. The second last picture is my favorite in full screen, as her legs seem to come right out of the computer screen. A small version of the picture is below, click on it to go to the site. Until that genius comes along and makes a 3D spanking simulator, stuff like this will have to do.
Oh one last thing,  check out the sample videos too. The first one has some wild stuff that will have you reaching out into the air!
Note: 3D glasses required